15-04-2021
Lighting trends 2021
Lighting is an essential part of successful design, it helps us to create the perfect mood.
In winter, when the days get shorter and we spend more time indoors, we opt for warm and cozy indoor lighting.
In summer, when the days get longer and we like to spend hours outside, we look for the ideal garden lighting. 
An interior is never finished, it evolves with the seasons and trends, but especially with yourself.
We want to share our top 5 trends for 2021 with you. 
1. A touch of Gold
Gold as well as brass, copper and other materials that provide a luxurious look are totally today's trend! 
Elegant yet subtle, the high-gloss or frosted finishes blend perfectly with natural materials such as marble and wood for a sophisticated look, or with artificial materials such as concrete for a more modern effect.
Adding gold to your interior also has a spiritual effect: It relaxes, provides wisdom and gives security.
2. Lighting to highlight artwork
In general, lighting for artwork should be three times brighter than the rest of the room's lighting.
This can be achieved by using the appropriate intensity (or ambiance).
To ensure that the colors of the artwork are accurately displayed, it is best to choose a high CRI (Color Rendering Index) percentage. The closer they are to 100 percent, the more vibrant the colors will appear. In addition to our well-known Flatspot collection, products such as Coombe and Picture Light (medium) can also be used for this purpose. These products have a CRI value of at least 95. See the specification sheets on our website for product details.
Because each work of art needs a different approach, we have been working with lenses since this year. These lenses are suitable for all GU10 products including Flatspot 6 and Coombe. This allows you to easily click a lens on the lamp and create a new beam angle, color or shape.
3. Combining different materials
The material you use can be very decisive for the atmosphere of that space. With wood and wool you create a warm feeling, with concrete you create a cooler look. The key is to use the right mix of materials to create the perfect balance.
Look for materials that complement each other, such as brass and marble, a match made in heaven. During our participation in Maison & Objet 2020 we experimented for the first time with this emerging trend, daring but successful. Watch our aftermovie below. 
4. Outdoor lighting
With the trend for spaces to relax and unwind becoming more prominent and important in interiors, thanks to the current pandemic, lighting plays a crucial role in helping to set the mood and surrounding atmosphere.
That's why outdoor lighting is playing an increasingly important role. With the summer in mind we all want to give our own garden a makeover.. searching for the perfect garden and evening lighting. 
At Tekna, we feel an increasing demand for outdoor lighting, with our Blakes Table Lamp being the big winner. Place the battery operated fixture anywhere you wish to create the ideal setting.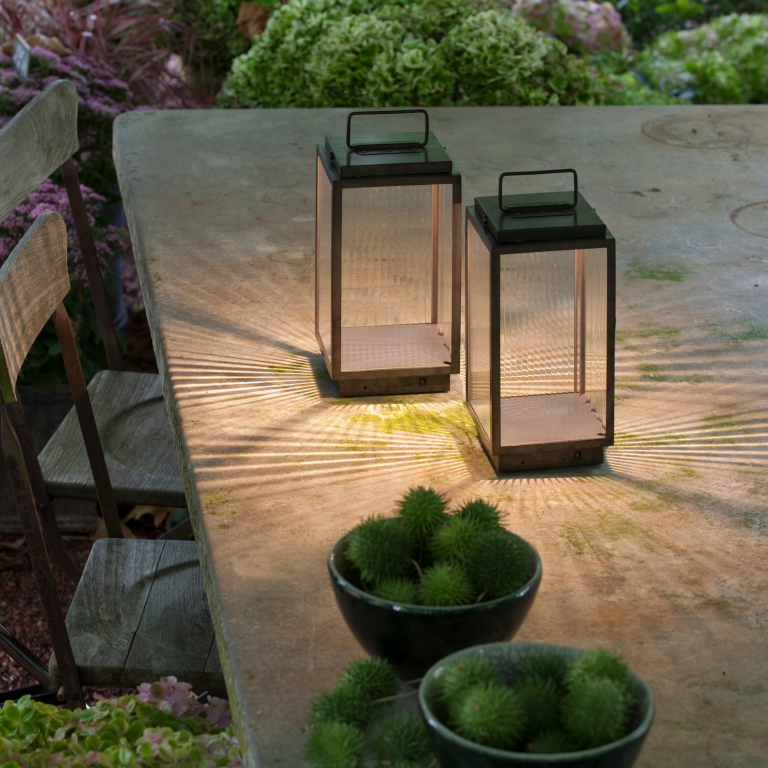 5. Get creative with color
Dare to experiment in 2021, but above all dare to be you. Combining bright and unusual colors is on the rise, think soft and cool pastels with warm terracotta. Or nude with violet. Or a cheerful ensemble of all kinds of bright colors together with pastels and metallics.
It's important to look at how big a space is. In dividing the space, attention to proportion and scale is necessary. Especially if you are going to work with intense colors. Therefore, always keep this rule in mind: for a small or very large room, go for an accent color on one wall. Is the room medium-sized? Then feel free to cover all the walls in a trendy color.
At Tekna, a select range can be personalized in color, which is the ideal way to create the right eye-catcher!